Safety T-Shirts for Industry
NOW AVAILABLE - Safety T-Shirts for American Industry.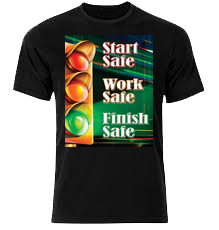 Click on the Safety T-shirt Tab or the Safety T-Shirt Category.
Put ANY of our images AND your logo on a t-shirt - any color, front, back or both. Order 1 to 100,000.
CALL US AT 901-759-0932, Central Time if you want colors other than black, or images on both fromt and back.
Our HIGH QUALITY Safety T-Shirts for Industry are produced on premium RING SPUN soft feel 100% pre-shrunk cotton. Our Ring Spun Cotton T's are the latest in t-shirt technology and are both soft AND durable.
Our state of-the-art t-shirt printing equipment has arrived and we are now printing safety awareness t-shirts for American Industry. You can use any of our images or we will design a t-shirt just for your facility for free on orders of 10 or more. You will be AMAZED.
Every member of your facility safety committee should have a custom designed Safety Committee T-Shirt.
You will be able to:
- Use ANY of the images on our site.
- Add your logo at NO CHARGE.
- Have us design a safety t-shirt for you at no charge on orders of 10 or more.
- Choose from a variety of t-shirt colors
- Order from 1 to 100,000.
- Get them on site quickly.
- and much much more.
Have a Question? Call us at 901-759-0932 Central Time or email us with the email button at the top.