Forklift-Tough™ Safety Floor Sticker Signs

Our Forklift Tough™ floor stickers are guaranteed for one year against normal wear and tear.
IMPORTANT: We do not guarantee our floor stickers against damage when a pallet is dragged across the sticker. NO floor sticker, paint or even 3M's street markers, will survive having pallets dragged across them when on the floor. Also, because of the aggressive anti-slip properties of our Forklift-Tough™ floor stickers, when a forklift wheel rotates directly on top of the sticker, the wheel will damage the sticker. It is rare, but it can happen. If you have such a situation please call us at 901-759-0932, we may have an alternative product solution for you.
CLICK HERE for all our safety floor stickers.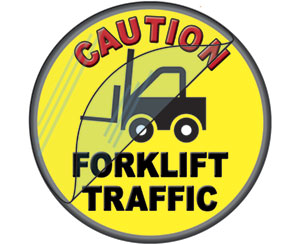 Forklift-Tough™ and Anti-Slip Floor Power Stickers
for American Industrial Facility Floors
- Designed for use in BOTH Forklift Traffic Aisles and Walkway Areas in your Facility
- Anti-Slip Surface, pedestrian safe
- Indoor Use
- Use on Floors Throughout Your Facility
- Guaranteed for One Year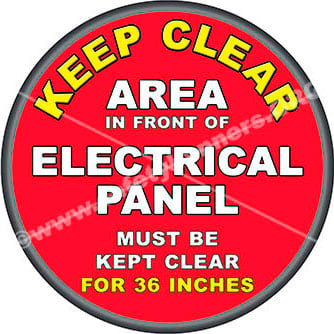 Economy Floor Stickers
- Indoor Use
- Anti-Slip Surface, safe for all pedestrian use areas.
- For use in non-forklift travel areas and pedestrian walkways.
- Low Cost
Use anti-slip Safety Floor Stickers & signs (floor signs) in any facility - warehouse, office or any where you want a safety emphasis. Every supermarket in the U.S. and most retailers do it - place advertising images on the FLOOR - because they get your attention!!! Isn't that what it's all about. Getting the employees to pay attention to safety - SAFETY AWARENESS.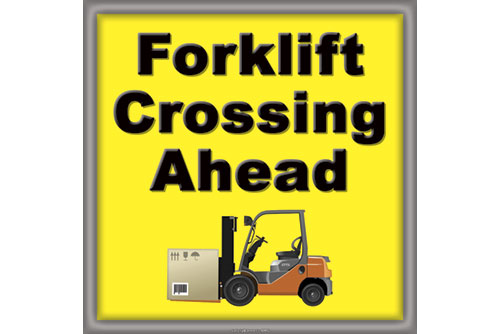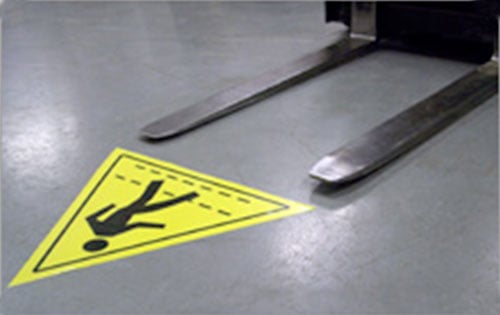 Place any Caution / Notice / Warning image on your facility floor as / Safety Floor Sign / Safety Floor Sticker / Safety Floor Decal.
Our Safety Floor Power Stickers / Signs / Decals are made from the very best materials in the business and made to last on your facility floor. Over the image surface we apply a VERY ROBUST (Forklift-Tough®) poly carbonate over laminate that can take a beating and keep on ticking - even from your forklifts - and they are anti-slip. (We do NOT use the pebbled vinyl over laminate! The vinyl over laminate is meant for grocery store floors - NOT INDUSTRIAL FLOORS!) Plus, our adhesive is a specially formulated adhesive which will stick securely to your floor, but can be removed with the application of heat. They are easy to apply yourself. No need for an expert to come in an apply your safety floor stickers or signs.
We have four standard sizes for our safety floor power stickers & signs, but we can make them ANY SIZE you need - just ask. PLUS, our designers will put together completely custom safety floor stickers just for you, at NO Charge.
Other Companies make YOU design your own safety signs! At SafetyBanners.Org WE DO IT FOR YOU - FREE! Call us at 901-759-0932 to tell us what you need and we will make your custom safety floor stickers happen - Just for you, at NO CHARGE!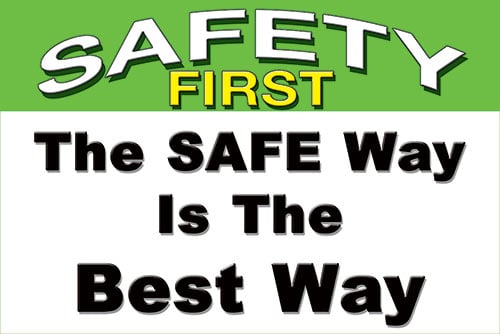 YES - Our designers will design COMPLETELY CUSTOM OSHA Compliant Safety Floor Sticker Signs for your specific facility needs. Have a need? Call us now at 901-759-0932 to tell us what you need on your safety floor signs. We will make it happen and make sure it is OSHA Compliant.
Anti-Slip Warning safety floor stickers, decals and floor signs can significantly enhance your safety operation. Retailers use them on floors to get attention because they work! Putting your safety warning or information message on the floor will warn employees of dangers, cautions and rules of your facility. Plus, they can also provide guidance for employees to find specific items are areas like fire extinguishers or emergency showers. Messages on the floor often get more attention and provide more reinforcement than posters or signs on the walls. On the floor, employees see them over and over. On the walls, the signs often get lost in the background and ignored over time.

Remember, your people are not going to stand in front of a decal or sign and take time to read and absorb the message. Just like in a retail store, they will take a quick glance. You have just a second or two for them to read and retain the message.