Aisle Safety Signs for Forklift Safety: Strong but FLEXIBLE.

Our Aisle Signs flex unlike dangerous metal aisle signs. © 2017, SafetyBanners.Org. All Rights reserved. Patent Applied For. Patent Applied For.

They bend when struck unlike dangerous metal signs. Our Safety Aisle and Walkway Aisle Signs are used for in-aisle safety awareness. They come complete with adhesive backed mounting brackets for your upright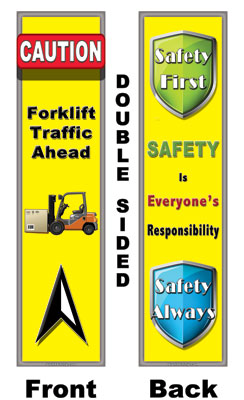 support beams or any flat surface. (No drilling or screws required!)
Our Aisle Safety Signs are small, 4" wide by 16" tall, but highly visible. We made them narrow so they would not interfere with pedestrians or even forklifts in the aisle. However, the design is psychologically eye catching and visually attractive so it is more noticeable than those old style 90's looking signs. They can be placed at eye level without fear of injuring your people which increases the visibility of the sign and the safety message.
You have never seen anything like our Aisle Signs for in-aisle safety and accident prevention awareness. Built Factory-Tough™ and Ultra Durable for American Industry.
Custom aisle sign design is available. Call Cyndi at 901-759-0932, or email her using the "email us" button above right. When you expect the best, we deliver.
They bend when struck unlike dangerous metal signs. Built Factory-Tough™ and Ultra Durable for our American Industry.
Aisle identification signs are often helpful in a large warehouse. We have a smaller, custom version, that is 4" wide and only 8" tall designed for aisle identification purposes. Aisle identification signs in an industrial warehouse are typically very custom with a variety of numbers, letters or other symbols. We have chosen to make these ID signs a totally custom product so you have to call Bob Metz to discuss your needs, design and to obtain a quote. However, for price reference, a standard double sided 4" x 8" Aisle ID sign would run $9 each.
Want more information? Call Bob Metz at 901-759-0932 Central Time.